Since the Government announced changes to the skilled occupations lists in April, resource and energy industry bodies have been urging for certain occupations to be reclassified to better meet industry needs. The revised skilled occupations list has since been confirmed and there have been a few wins for the industry, but there are also more restrictions and caveats put in place to limit the use of the 457 visa program for particular occupations.
Here are the occupations that resource industry bodies were fighting to have put back on the Medium and Long Term Skilled Occupation List (MLTSOL) and the Short Term Skilled Occupations List (STSOL) alongside the outcome of the Government's revision.
Geophysicists, metallurgists and petroleum engineers and a number of other engineering classifications have been placed on the MLTSOL, allowing for a four year work visa and a pathway to permanent residence. A few aviation occupations have been put on the STSOL list, but are only eligible for a two year visa and are restricted by caveats which limit the use of the 457 visa under certain circumstances.
The Government was also urged to reconsider the below occupations placed on the STSOL and consider their use under the MLTSOL.
A win for many industries was the placement of Chief Executives or Managing Directors back on the MLTSOL, however its re-introduction to the MLTSOL has come with a caveat stipulating the applicant must earn a salary of at least $180,001 unless trade obligations apply.
Listed below are occupations that were on the skilled occupation lists with caveats in April when the government first announced the changes. While industry bodies have fought to have the caveats removed, many of the marine positions have been removed from the lists altogether and are now entirely unavailable from the skilled visa program. Other occupations, such as civil engineer technicians, were placed on the MTSOL without caveats, reflecting the shortage of skilled professionals in this area of the industry.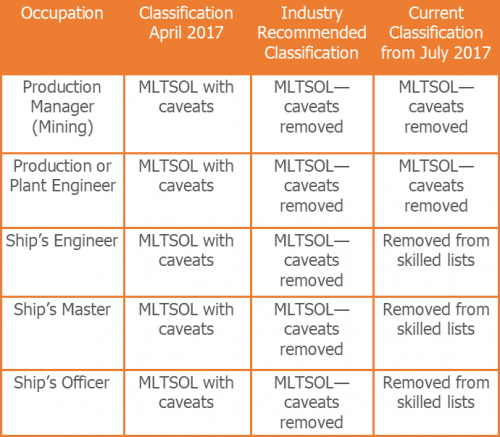 "Businesses in the resources industry can often find it difficult to source candidates with the right skills and experience to fill highly specialised roles but overall, there have been a number of wins."

"In summary, 7 out of the 12 occupations the resources industry was fighting to put back on the list have now become re-eligible for a skilled visa. Chief Executives and Managing Directors are now also eligible for a longer-term visa and possibly permanent residency, but a lot of restrictions or caveats on the use of occupations for 457's have been maintained and unfortunately ship's masters, engineers and officers and drillers are still off the list," says Sheila Woods, Managing Director, Interstaff.
View the full list of revisions to the skilled occupations lists here or for strategic migration advice, contact Interstaff's registered migration agents on +61 8 9221 3388 (or National Free Call 1800 449 858) or [email protected]
Source:
Interstaff's Registered Migration Agents